Share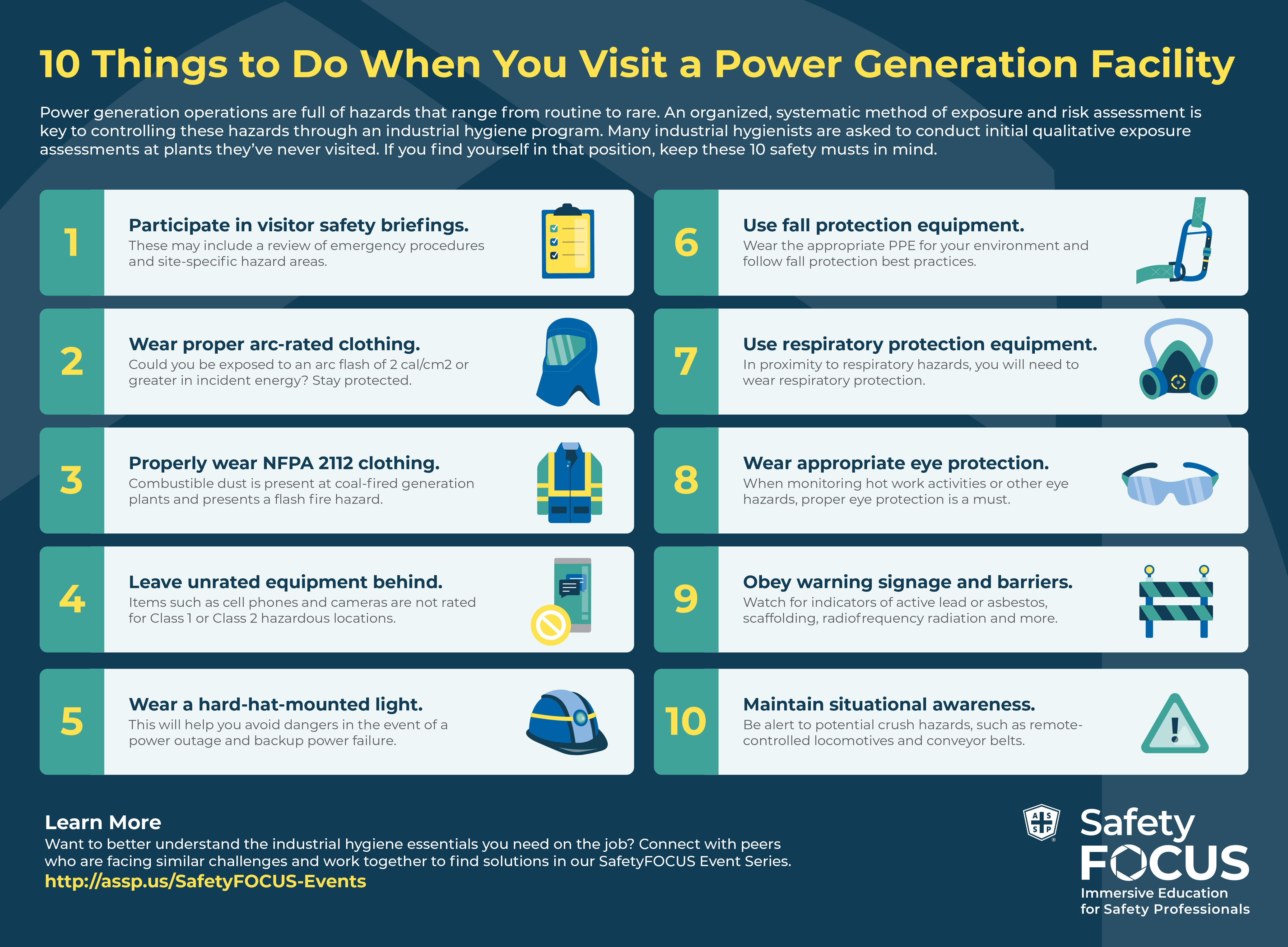 ---
Power generation operations are full of hazards that range from routine to rare. An organized, systematic method of exposure and risk assessment is key to controlling these hazards through an industrial hygiene program. Many industrial hygienists are asked to conduct initial qualitative exposure assessments at plants they've never visited. If you find yourself in that position, keep these 10 safety musts in mind.
These may include a review of emergency procedures and site-specific hazard areas.
Could you be exposed to an arc flash of 2 cal/cm2 or greater in incident energy? Stay protected.
Combustible dust is present at coal-fired generation plants and presents a flash fire hazard.

Items such as cell phones and cameras are not rated for Class 1 or Class 2 hazardous locations.
This will help you avoid dangers in the event of a power outage and backup power failure.
Wear the appropriate PPE for your environment and follow fall protection best practices.
In proximity to respiratory hazards, you will need to wear respiratory protection.

When monitoring hot work activities or other eye hazards, proper eye protection is a must.
Watch for indicators of active lead or asbestos, scaffolding, radiofrequency radiation and more.
Be alert to potential crush hazards, such as remote-controlled locomotives and conveyor belts.
Learn More
Want to better understand the industrial hygiene essentials you need on the job? Connect with peers who are facing similar challenges and work together to find solutions in our SafetyFOCUS Event Series
http://assp.us/SafetyFOCUS-Events
View Infographic
---
For more information about conducting a qualitative exposure assessment at an unfamiliar power plant, read "Power Trip: Occupational Health Issues in the Power Generation Industry" in the September 2017 issue of Professional Safety.
---
Gain the technical resources, community and continuing education units (CEUs) you need to stay ahead. Join your peers at SafetyFOCUS.
Learn more
---
Back to home page
Read next article